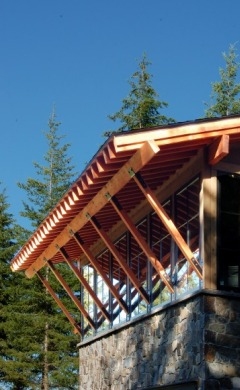 FIRM

Our office of 4 people was formed in February of 2004.
The two principals, Matthew Stannard and Brad Conway initially worked together at Olson Sundberg Kundig Allen Architects for 6 years. Matthew came to Seattle from New Zealand after working in London for 2 years. He acquired 14 years of experience at Olson Sundberg Kundig Allen Architects becoming an Associate in the firm. Brad came to Seattle after working in San Francisco and New York City and has worked on projects ranging from large single family residences to a retreat center in eastern Washington.

The goal of our office is to work on residential projects of all forms and types includingresidential-remodels, new custom homes, developer homes, townhouses, loft buildings, and apartment buildings. We believe in combining our experience designing high end residences with an office attitude that promotes efficiency in order to bring thoughtful design to market oriented developer projects or smaller residential projects and value to custom design work.

Our design process always starts with a response to our client's vision. We combine our design sensibility with our client's vision to create successful projects. This is best seen in the variety of styles of our completed projects. Our projects respond to their natural and built context, meet budget constraints, and conform to the lives of our clients.
We have been successful in working with design review boards in Seattle, Issaquah, and Redmond. Our projects have received industry awards and been published.